Holi, the world-famous Indian 'festival of colours' is here! Around the same time, experts have predicted that homeowners in the year 2020 will dare to colour their homes as never before. Walls that have always stayed white will turn to chromatic shades. The floor below your feet will apparently dance to the tunes of colours.
Do you dream of such a happy and welcoming home? Then look no further than natural stones. Interior designers agree that nothing could make a home feel warmer and more inviting than natural stone. Each stone slab is a natural masterpiece that evolved over time to reveal its true magnificence. The dissimilar consistencies in each slab add tones of personality to your space.
Hence, Quality Marble Exports (India), a global marble and granite suppliers, has come up with a trending list of colourful natural stones. The list ahead harmonises with the bright and vibrant colours of Holi that also are symbols of different emotions.



Cool And Natural Ambience: Blue & Green
In Holi, blue is the colour of Lord Krishna's face, and of the skies and oceans. Whereas green
represents the arrival of spring or new beginnings. This colour scheme produces a contemporary effect emulating the lush greens and the power of nature.
Use the Crystal Blue Granite to create a stunning accent wall in your living room. The high-quality granite slab is highly conspicuous with an attractive blue backdrop with black and blue specks. This stone combined with Fantasy Green Marble flooring can work wonders. Quality Marble Exports (India) is one of the largest green marble suppliers worldwide which shows property owners love for the green.
While in the kitchen, you can use Crystal Blue Granite as the backsplash and Spider Green Exotic Stone as the kitchen countertops. Use light coloured cabinets and dining chairs for a balanced effect that is both luxurious and trendy.
Feelings Of Women - Pink And Gold
Pink is seen as the 'girly' colour while it also represents caring and compassion - integral to a
woman's character. As per many designers, pink can be abundantly used in different rooms, and shouldn't be limited to kids' rooms.
Predictions say that light pink would be a very popular colour in 2020. So, we have this soft-coloured Royal Pink Granite to decorate your interiors. It is a refreshing alternative to a white or beige. It can be used as the granite floor tiles of living room, bedrooms, kitchen and even bathroom.
With gold being an obsession for women, what could be the better companion of pink colour? The Royal Pink specks would flow excellently with the veining of Royal Gold Granite. A Royal Pink flooring and a Royal Gold accent wall create a fascinating look in any space that is impossible to ignore.
Perhaps, if you wish for a bolder combination, Quality Marble Exports (India), as the leading exotic stone suppliers offer dozens of choices. One of them is the sassy Carbon Gold Granite accent wall matched with Vyra Pink flooring. It reveals the distinctive side of aesthetics that can go well with light-coloured furniture.
Bright And Beautiful - Yellow & Red
As the colour of Holi, yellow symbolises the emotion of peace and happiness. It is also seen as the
colour of knowledge. While red, as most of us know, is the colour that evokes love.
Both yellow and red combined to decorate space speak the language of celebrations of high-end living. Interior designers say rich red shouldn't be reserved for the fall season.
Then how about placing this Gem Red Granite as the kitchen countertop. It can daringly flow with Rain Forest Yellow Marble backsplash or staircase or flooring. This combination creates a rustic look in the kitchen that also spreads warmth in the room. It would go well with light wooden chairs and cabinets.
Full Of Energy: Red & Blue
If you want to create a space full of energy consider combining a red granite tile with premium quality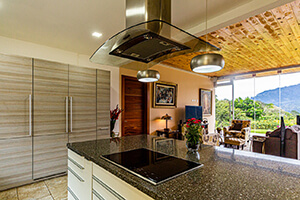 blue marble tiles. This will make a passionate statement that reminds you of love, strength and desire. Using appropriate shades of red and blue you can match for a retro look or even a stylish contemporary one.
We have an excellent choice for homeowners who dare to create dramatic deep red and blue interiors. Accentuate one wall with glossy Flash Blue Granite and keep the flooring glittering with Ruby Red Granite. Both will become the focal point of the room. It will give rise to extravagant and sophisticated aesthetics. In fact, this combination creates a bright statement and also helps in keeping a room from feeling cavernous.
Using polished finish high-quality marble and granite is one of the best solutions. The same concept can be used in the kitchen or for a home bar set up.
Quality Marble Exports (India) - Premium Quality Marble Suppliers And Granite Suppliers
Each colour natural stone used to decorate interiors transforms the space. Colours of different shades have the power of setting the tone, the mood and the general ambience of space. Furthermore, it also has the capacity to create an illusion of making rooms feel huge or small.
As the largest marble and granite exporters from Udaipur, Quality Marble Exports (India) goes a long way in offering colourful natural stones. We have helped homeowners achieve unique looks. From the subdued effect of white and beige to the bold look of brown and red.
Whatever your colour taste is, contact us! We are committed to offering all colours of high-quality marble or granite or any other natural stone.