Imperial White Granite from India is one of the most sought-after granite varieties. The white background which is characterized by pink and grey streaks gives it a luxurious look that is perfect for any application. Also, the neutral hues offer a sense of calmness in any room that you decide to apply.
We know that granite tiles are one of the hardest materials on the planet second to diamonds. And the strength of Imperial White Granite is further attributed to its properties. Durability, easy maintenance, resistance to weather elements, and aesthetic appeal for both outdoor and indoor use are some of the factors.
The elegance of white granite cannot be disputed but every homeowner is always concerned about how you can maintain its shine. Have you decided to use Imperial White Granite from India in your space? Are you worried about how you can revitalize it?
In this article, Quality Marble Exports (India) gives you tips on how you can keep your white granite tile and slabs shining for decades.
All-Inclusive Maintenance Tips To Protect Your White Granite's Lustre
1. Does Imperial White Granite Shine Naturally?
Imperial White Granite comes in a variety of finishes such as polished, semi-polished, and honed. A polished look is crisp clean and the pink and grey veins of the granite tile are more refined. However, the shine can also be attributed to high quartz deposits which are found in the stone.
2. How Can You Keep The Imperial White Granite Shining At Home?
Installing granite tiles is an investment that adds value to your home. It can be an expensive process, that is why you can be worried once the tiles begin to appear dull and scratched. The good news is that this article is going to squash all your worries since you can bring the shine back to your white granite tiles using these easy tips.
a. The Granite Tile With Soap And Warm Water
You make the best efforts to keep your granite tiles clean all the time. However, you might be doing it the wrong way that is why they appear dull. While doing your cleaning you only need to use warm water, mild soap, and a sponge. Once you are done, use a paper towel to dry the tiles. You can also opt to use a granite cleaner for a more thorough job.
But remember to avoid using cleaning products such as bleach, ammonia, lemon, and vinegar. These acidic agents make white granite appear dull. Also, they can lead to stains and damage the sealant of the granite tile.
b. Polish The Granite To Enhance The Shine
You must buy a polish that is granite safe. Some polishes contain elements such as vinegar, ammonia, and bleach which can cause damage.
There are two types of polish that you can use: Wet and dry polish. You can use the latter as a wet polish since you only need to add water. Also, dry polish is more resilient to removing scratches. Nonetheless, the type of polish you will use will depend entirely on your Imperial White Granite.
Also, if you are looking to move things a lot faster, you can opt for a power polisher. You will need a power tool which will be less strenuous. However, you should be cautious in using it. Because too much force and pressure can damage your granite tiles.
Home-made Recipe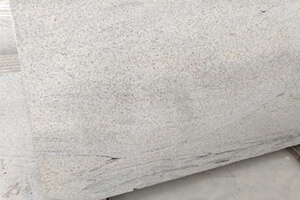 On the other hand, you can save money by making your granite polish at home. Here is a quick and easy recipe to help you:
Take 3 cups of warm water
¼ cup of baking soda
Now mix the ingredients thoroughly and apply the paste in circular motions on the granite surface using a sponge. If there are any polish remains use a warm damp cloth to clean.
If after all these processes your Imperial White Granite still appears dull then you should use a sealant. With proper care and maintenance of your granite tiles, it will last for decades. You can get expert tips from the leading granite suppliers from India.
Quality Marble Exports (India) - All In One Solution For Your Natural Stones
Quality Marble Exports (India) is a well-known name in the global natural stone industry. Thanks to our decades-old experience and expertise. We have been serving clients in India and abroad with customized natural stone solutions.
Imperial White Granite from South India is a bestseller. We provide a variety of finishes to enhance the natural lustre of the stone. From manufacture to installation and sealing, we take care of the entire process to ensure your granite tiles are ready to last for many decades to come.
Are you looking for a professional polishing service to bring back the lustre of your granite tile? Do you wish to install Imperial White Granite tiles? We are here to provide you with every solution!