Many of us are living a fast-paced life that can be a bit stressful. In the hustle, we often forget that our well-being should be a priority above anything else. Natural elements are one of the best ways to safeguard our mental, physical as well as spiritual well-being. If you are looking to create a stress-free and serene space in your home, look no further than natural stones. Evidently, they prove to be saviours!
Today, we bring to you a most sought-after sandstone from India - Dholpur Beige Sandstone. This sandstone variety was a popular choice even centuries ago. It was extensively used in constructing monuments. Some of the famous examples include Red Fort of Delhi, Supreme Court of India and Swaminarayan Temple in Delhi.
The warm beige tones of Dholpur Sandstone make it a great choice to transform your home into a sanctuary. The muted hues tend to blend easily in any room either your bathroom, bedroom or living area. Moreover, it can also be used extensively for your exterior decors such as your garden pathway and outdoor fireplace. Its presence can easily add a sense of calmness and relaxation.
As Quality Marble Exports (India) is one of the largest sandstone exporters, we help you explore unique ways to add this stone as a centre of attraction. No matter the decor of your home, these ideas will fit in perfectly!
Fantastic Five Ideas To Apply Dholpur Stone
1. Indoor Stone Fountain
Indoor water fountains are just heavenly. The sound of trickling water automatically induces a sense of calmness. So why would you not opt for one in your home? Leading Sandstone suppliers provide custom designs as per your choice to beautify your home. They provide ideal finishes and sealing so that the stone does not wear and tear easily.
Dholpur Beige Sandstone is a great choice because it is a soft stone and can be carved in any shape you desire. Also, it has low water absorption rates which makes it highly suitable for this application. The best part is that when the stone is wet, the beige veining changes to purple colour. And we all know purple means elegance!
2. Sandstone Buddha Statue in Meditation State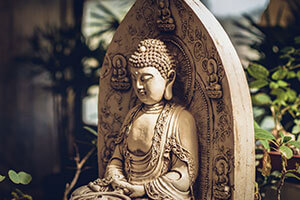 Developing your chi plays a vital role in ensuring that you are at a good place - physically, mentally and spiritually. One of the best ways you can enforce this is arterial due to its natural and gentle look and feel. It has regular bedding properties and by bringing Buddha Statues to your home. Dholpur Sandstone proves to be a great mix uniform in nature. Also, it can be carved in any size. And the colour blends in perfectly in any space setting.
3. Laughing Buddha
Who wouldn't want some good luck and prosperity in their lives? According to Feng Shui, a Laughing Buddha will further enhance the well-being of your home. Dholpur Beige Sandstone is known for its durability and strength. As mentioned earlier, it has been used to construct monuments from centuries back in India. Thus, if you want your Laughing Buddha to last a lifetime, go for this material. What's more, the stone's natural look bestows the statue with the next level of aesthetics.
4. Accent Wall With Indoor Plants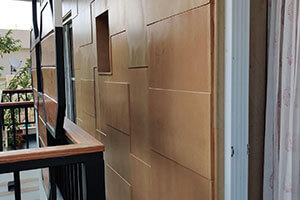 Do you have an empty wall which you don't know what to do? Well, you can decide to have a huge accent wall, especially if you have a modern theme for your space. The wall can have window-like openings to insert living plants within. And the entire wall can be tiled with sandstone. Plants help us to interact with nature and they are also a great way to decorate our interiors. The neutral tones of Dholpur Beige Sandstone blend in with various indoor plants and add visual peace. You can use
different plants to bring a sense of vibrancy to space.
5. Giant Sandstone Vase
Stone vases are ideal for beautifying space either indoors or outdoors. The natural charm and physical properties of this sandstone from India make it a great fit for it to be carved into an elegant giant vase. You can ask your Sandstone supplier for this application.
Quality Marble Exports (India) - Provider Of Personalized Dholpur Beige Sandstone Applications
The one-of-its-kind ideas you've discovered now can be applied to any space in your home. Be it your living room, bedroom, kitchen or bathroom, there's an ocean of creativity waiting to embrace your home.
Quality Marble Exports (India) is one of the most extensive sandstone suppliers in India. We have exported Dholpur Sandstone from India to different parts of the globe and provided personalized stone solutions of our client's choice.

Dholpur Sandstone is available in a variety of colours and finishes. While we have talked here only about Dholpur Beige Sandstone, there are also Dholpur Red Natural, Dholpur Chocolate Honed etc.
If you love creating strikingly unusual interiors using a limited budget, just a few of these showpieces can do the magic. Let us know your design requirements and we will be back with an appealing quote for you!